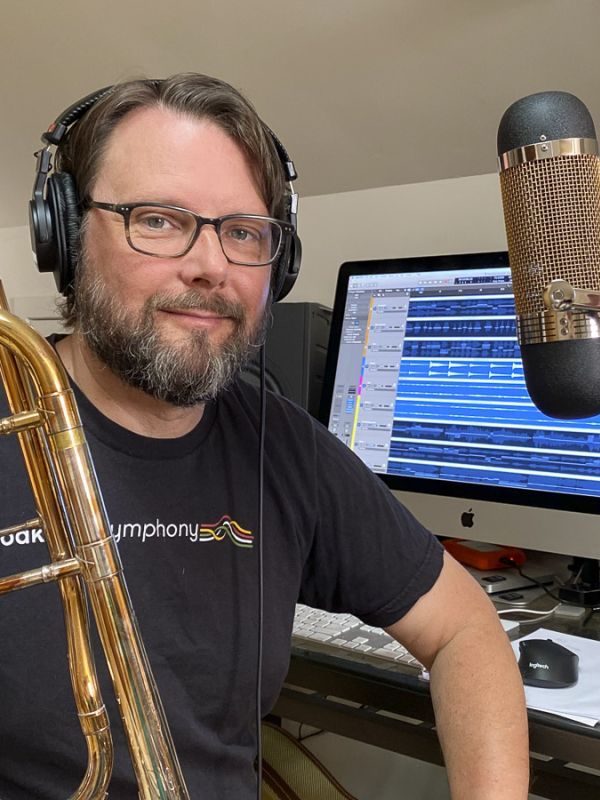 Associate Professor of Practice
Active in the Bay Area since 1989,  Professor Chrisp is presently principal trombone of the Santa Rosa Symphony, Marin Symphony, Vallejo Symphony, Oakland Symphony, Sacramento Philharmonic and Opera, Carmel Bach Festival, and Fresno Philharmonic orchestras, and is a member of the Opera San Jose orchestra.
Additionally, Chrisp performs regularly with the San Francisco Symphony, San Francisco Ballet, San Francisco Opera, and the San Diego Symphony. He is in demand as a recording artist and records frequently at Skywalker Ranch in Marin County. A founding member of the San Francisco Brass Company, a brass quintet based in the San Francisco Bay Area, Chrisp also enjoys performing renaissance and baroque works on a replica of an instrument made in Nuremberg in 1595. 
An active sound engineer and producer, together with violinist Gabrielle Wunsch, Bruce performed, produced, and edited, a multi-track setting of Giovanni Gabrieli's Sonata Pian' e Forte on original instruments. Recently, he arranged, produced and edited a new version of Woodie Guthrie's This Land Is Your Land with the Musicians of the Oakland Symphony, performed, produced, and edited the Oakland Symphony's presentation of Richard Strauss's Vienna Philharmonic Fanfare for the virtual gala in celebration of Vice President Kamala Harris' historic election, and arranged a number of 1970's era television theme songs for what became joyful, expert, and slapstick multi-track recording projects during the pandemic. 
Professor Chrisp earned a Bachelor of Music Education degree from the University of Michigan, a Master of Music degree from the San Francisco Conservatory of Music, and previously taught trombone at UC Davis prior to joining the University of the Pacific.
Education
Bachelor of Music Education degree from the University of Michigan
Master of Music degree from the San Francisco Conservatory of Music