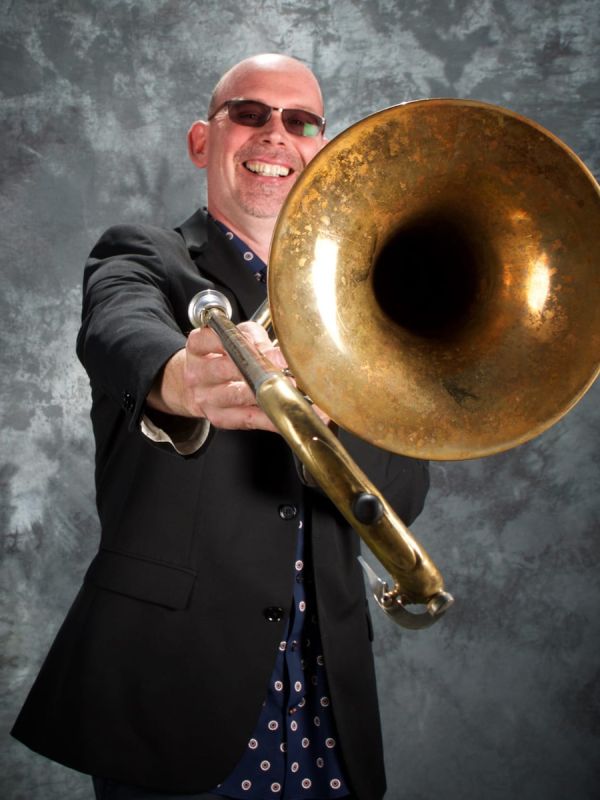 Assistant Professor of Practice
Jamie Dubberly currently teaches Advanced Improvisation and Intro to Jazz at the University of the Pacific. He holds a Bachelor's degree in music from the University of Georgia, and a Master's degree in music from The Hartt School of Music (University of Hartford), where he also participated in a doctoral program, and was on the faculty as an adjunct, part-time instructor. He is currently also on the faculty of California State University (Stanislaus), where he teaches the low brass studio, student chamber and jazz ensembles and various classroom music courses. 
Jamie is a multitalented trombonist, composer, and bandleader originally from coastal Georgia. He has been in northern California since 2003, when he moved from the New York City metro area. Jamie primarily has been a part of the burgeoning bay area Latin and jazz scenes since he arrived in 2003, and is currently a member of the following prominent ensembles: Avance, Pacific Mambo Orchestra, Realistic Orchestra, Jazz Mafia Symphony, Montuno Swing,  Brian Andres' Afro Cuban Jazz Cartel, and  Orquesta Dharma (leader). He also works frequently with noted bay area bands such as La Fuerza Gigante,  Mazacote (Louie Romero) and many others.
Having come from a classical/orchestra background originally, Jamie also performs with bay area and central valley orchestras such as the Townsend Opera Orchestra, of which he is a member (principal), the Oakland Opera Orchestra, and others. Jamie has also performed with many internationally known acts such as The Manhattans, Joan Rivers, Bloodstone, Gene Chandler,  and has shared the stage, performing along jazz artists such as Bobby Shew, Ernie Watts, Steve Davis (trombone), Arturo O'farrill, Kenny Rampton, Doug Beavers, Alan Ferber, Marc Gross, Jimmy Greene, Paul Contos, and Mic Gillette, among many others. He has also performed with bands backing top salsa names including Frankie Vazquez, Tony Vega, Eddie Santiago, Willy Torres, Marco Bermudez, Tito Rojas, Willie Gonzales and Cali Aleman. Jamie helped initiate a monthly jazz vespers service, at First United Methodist Church in Modesto, CA, where he is a member, and acts as musical director for the jazz services. He also recently formed a latin jazz orchestra "Dharma," which showcases his writing and arranging abilities, and whose debut album "Road Warrior" was selected as the "2011 next generation latin jazz album of the year" by the latinjazzcorner.com website, and #7 on Rudy Mangual's "top ten albums of 2012," by Latin Beat Magazine.
Education
BA, University of Georgia
MM, University of Hartford