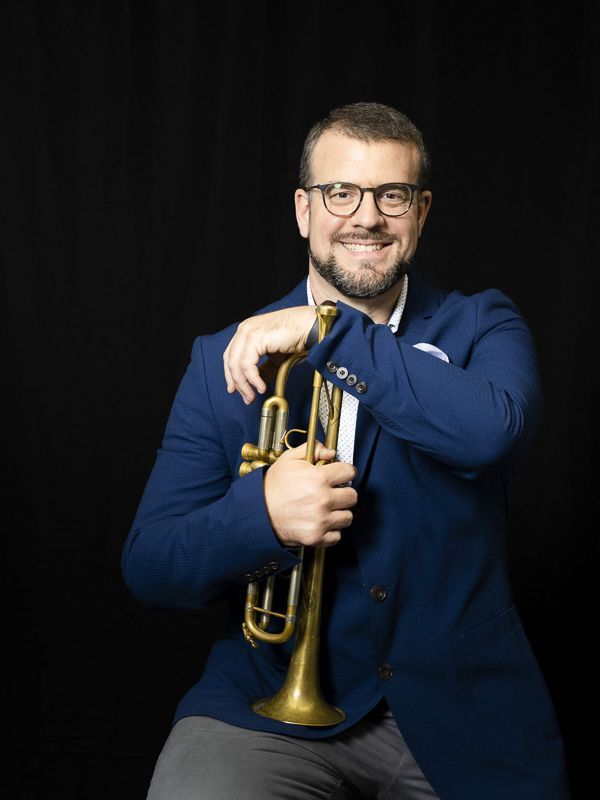 Associate Professor of Practice in Jazz
Associate Director of Jazz Studies
Joe Mazzaferro is the Associate Director of Jazz Studies and Associate Professor of Practice in Jazz at the University of the Pacific. Prior to joining the Conservatory of Music faculty, Mazzaferro served as the Coordinator of Jazz Studies at California State University, Stanislaus and held teaching positions at Sacramento State and San Joaquin-Delta College. His formal studies include a Bachelor's of Music in Music Education from the University of the Pacific and a Master's of Music in Jazz and Studio Music from the University of Tennessee, Knoxville where he served as a Graduate Teaching Assistant for the jazz program.  
As a Trumpeter, Educator, and Composer, Mazzaferro is active in the Northern California jazz scene and in demand as a guest artist and clinician across the United States. In November 2017, Mazzaferro released his debut album In Terms Of... (Joe Mazz Music) which features saxophonist Jeff Clayton along with special guests, drummer Carl Allen and pianist Donald Brown. The album peaked at #43 on the JazzWeek Charts and received high praise from jazz critics. The album has been described as "vintage hard bop with maturity" (George Harris, Jazz Weekly) as well "a little bebop, a little swing, and a lot of tenderness, heart, and passion come together on this intriguing debut" (Tom Henry, Toledo Blade). His forthcoming album Only Time Will Tell (due out Spring 2022) will feature vibraphonist Warren Wolf, drummer Carl Allen, bassist Rodney Whitaker, and saxophonist Chad Lefkowitz-Brown. 
Mazzaferro has gained critical acclaim as a composer and has arranged compositions for big band for including SF Jazz Collective Pianist Edward Simon, drummer Carl Allen, trumpeter Terell Stafford, vocalist Jazzmeia Horn. In 2019, he contributed arrangements to the Smoke Session Record's release Bird at 100, commemorating the centennial birth of Charlie Parker and featuring alto saxophonists Vincent Herring, Bobby Watson, and Gary Bartz. His July 2020 Big Band release Talk About It! Live @ The CLARA (July 2020) features arrangements and compositions exclusively by Mazzaferro himself. 
As an active freelance performer and collaborator, Joe has had the opportunity to perform with many jazz greats, including Dave Brubeck, Christian McBride, Stefon Harris, Eddie Gomez, Donny McCaslin, Donald Brown, Wycliffe Gordon, Jeff Clayton, Ingrid Jensen, Lewis Nash, Montez Coleman, and Jim Snidero. In recent performance opportunities, Joe has had the privilege of performing the Miles Davis masterpiece Birth of the Cool with Gunther Schuller at the 2013 Brubeck Festival and was a part of the series "Remembering James Williams & Mulgrew Miller" with pianist Donald Brown's Quartet at the 58th Annual Monterey Jazz Festival. Joe also performs regularly at Take 5 Jazz Club in Stockton, is the Musical Director and Co-Founder of the Sacramento Jazz Orchestra, and a member of the Capital Jazz Project. 
Education
BM in Music Education, University of the Pacific
MM in Jazz and Studio Music, the University of Tennessee