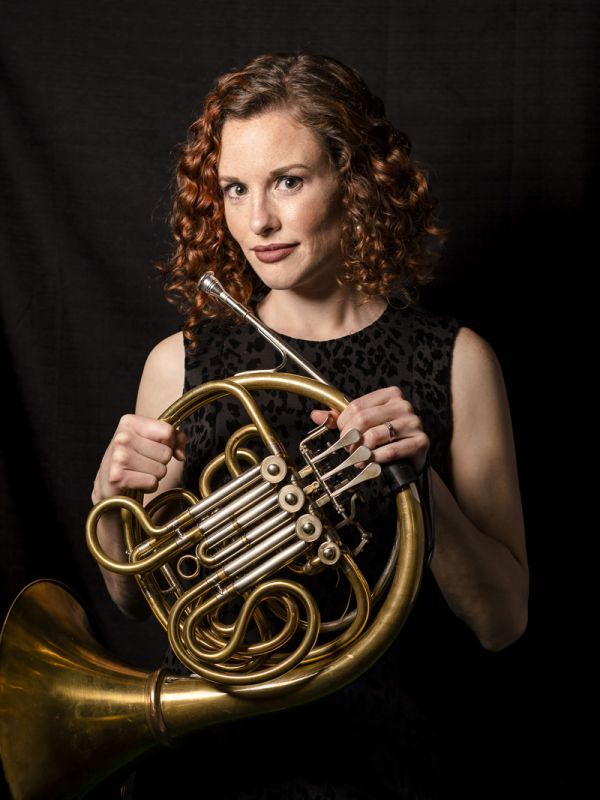 Assistant Professor of Practice, Horn
Program Director of Brass and Percussion
Recognized for her "tender and moving" performances, hornist Sadie Glass leads a varied career as a performer and educator. Glass performs as a soloist and orchestral hornist with period-instrument ensembles across North America, including Philharmonia Baroque Orchestra, Portland Baroque Orchestra, American Bach Soloists, Musica Angelica Baroque Orchestra, Bach Collegium San Diego, Pacific Baroque Orchestra, Valley of the Moon Music Festival, Early Music Vancouver and Pacific MusicWorks. Her recent solo appearances include performing Mozart's Horn Concerto No. 1 with the horn quartet Quadre. She performed Ligeti's Hamburg Concerto with the University of Illinois at Urbana-Champaign's Modern Ensemble in 2022. 
On the modern horn, Glass is an active performer in the San Francisco Bay Area. She is also a tenured member of the Monterey Symphony and has performed with many orchestras including the Stockton Symphony, Marin Symphony and Sacramento Philharmonic and Opera.
As an educator at Pacific, Glass teaches horn and is a member of the faculty ensemble Pacific Arts Woodwind Quintet, teaches chamber music and music fundamentals. Additionally, she is the faculty advisor for Pacific Brass Society. Glass is also on faculty at the Kendall Betts Horn Camp as the natural horn specialist. Previously, she has held positions at Pacific Union College, Chabot College and Las Positas College.
Glass completed a master's degree at the University of Illinois at Urbana-Champaign, where she studied with Bernhard Scully She earned her bachelor's degree from the University of Wisconsin Stevens Point, studying with Dr. Patrick Miles.
In her free time, Glass enjoys traveling and spending time outdoors with her husband, son, daughter and their two dogs.
Education
MM, University of Illinois
BM, University of Wisconsin