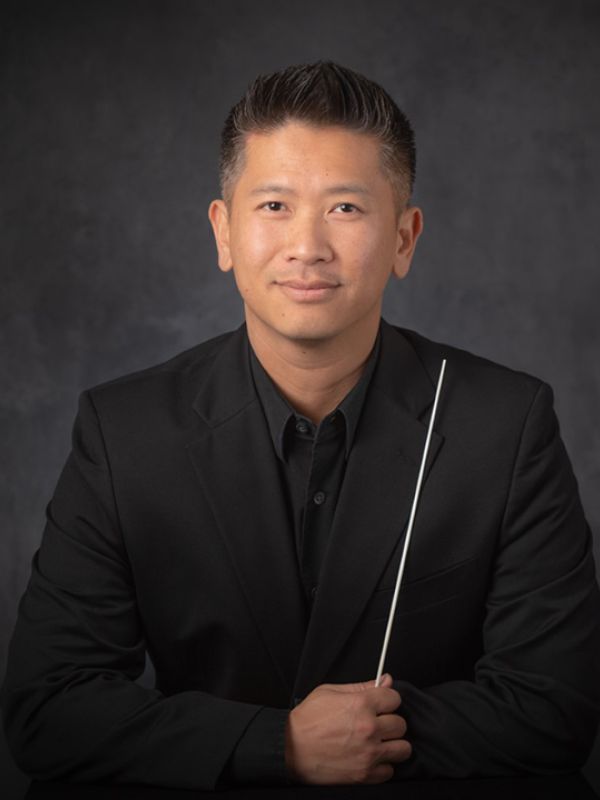 Associate Professor of Music
Director of Bands
Professor Vu Nguyen comes to Pacific from the University of Connecticut where he served as Director of Wind Ensembles and Conducting.
Prior to his appointment at the University of Connecticut, he served as the Director of Bands at the University of Indianapolis, was a conductor of the Wind Ensemble at Washington University in St. Louis, and was a visiting conductor of the Indiana University Concert Band. He began his career teaching in the public schools of San Ramon, CA.
Dr. Nguyen has conducted throughout the western United States and in Japan. He maintains an active schedule as a clinician and has served as guest conductor with the United States Air Force Bands of the Golden West and Mid-America, as well as regional honor bands in northern California, Missouri, Illinois and Indiana. Ensembles under his direction have been invited to perform at state music educator conferences in California and Indiana, at the Midwest Clinic, and most recently at the 2020 College Band Directors National Association Eastern Division Conference. His research interests focus on contemporary wind band literature, the music of Frank Zappa, and conducting pedagogy. His book chapter on composer Carter Pann was published in the fifth volume of A Composer's Insight: Thoughts, Analysis, and Commentary on Contemporary Masterpieces for Wind Band (Meredith Music Publications).
A native of the San Francisco Bay Area, Dr. Nguyen earned a Bachelor of Music in Music Education from University of the Pacific, a Master of Music in Conducting from the University of Oregon, and a Doctor of Musical Arts degree in Conducting from the University of Washington.
In addition to his academic career, Dr. Nguyen continues to serve as an officer in the Air National Guard (ANG) where he is the commander/conductor of the ANG Band of the West Coast. In this position, he is responsible for all activities of the 40-member squadron, including participation in ceremonies, parades, concerts and other public performances. The Band of the West Coast is one of five ANG Bands in the United States covering an eight-state area of responsibility that includes California, Idaho, Montana, Nevada, Oregon, Utah, Washington and Wyoming.
Education
BM in Music Education, University of the Pacific
MM in Conducting, University of Oregon
DMA in Conducting, University of Washington