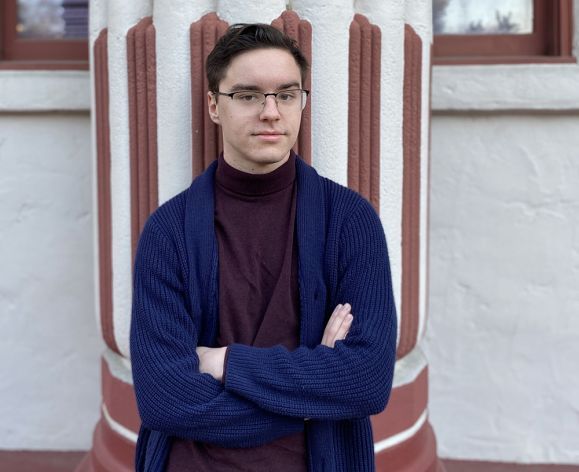 Outstanding alumnus
Wyatt Cannon
Graduation: May 2022
Major: Music composition
Achievements: 2018 winner of SF Search composition competition; participant in the 2021 Fifth House Ensemble's Fresh Inc Festival; participant in the 2022 Valencia International Performing Arts Summer Festival, Spain
Other Activities: University of the Pacific's 28/78 New Music Ensemble
In June of 2022, music composition major Wyatt Cannon '22 participated in the Valencia International Performing Arts Summer Festival (VIPA), Spain. He was selected among applicants from around the world who travel to Valencia each year to perfect their music craft.
Wyatt had chosen to study at Pacific because he felt the conservatory would provide him with the resources and care he needed to explore his musical interests and develop his musicianship. From meeting music professionals to participating in events, Wyatt experienced a diverse range of musical styles and techniques here at Pacific.
Why did you want to participate in VIPA?
I found it interesting because it was in Europe, and I thought it'd be cool to travel there, especially since I was graduating. Also, they had a lot of composition professors who were from different universities in the U.S. and Europe. That was important to me because I wanted to get that different perspective. I and my fellow student from Pacific, Noah Granard '22, were some of the youngest participants there. The others were mostly people getting their masters or doctorates, or already had those degrees. 
What was the process to compose the music for VIPA?
We wrote before travelling to Spain because the festival was less than two weeks long so, there would not have been enough time. When we applied, we were assigned instrumentation and we could choose an ensemble. I composed a piece for violin and vibraphone.
We only had two rehearsals with our ensembles before the performance. It would have been nice, I guess, to have more time to work with them. Nonetheless, it was insightful to talk to professional performers because they have a different way of looking at things than students. 
How did this festival benefit you as a music composer?
I met a lot of interesting musicians with a variety of different ideas. This one composer did a lot of graphic scores. Although I'd worked with a great deal of graphic notations, their approach was completely different from mine which I found inspiring. I was able to look at their scores and see exactly what was going on. I thought that was really helpful. It definitely made me want to explore more of those ideas. 
And then, just being exposed to such a variety of music and styles that were different than those I'd explored was inspirational and made me think about music in the new ways.
Why did you decide to study music composition at Pacific?
What really made me decide to come here is that I was able to meet with Dr. Robert Coburn, the program director for music composition when I started and with Dr. Sonia Leong, who had been my piano teacher at Pacific. That process felt really welcoming and made me feel I was going to have an individual experience at Pacific, focused on what I wanted to do and what I wanted to accomplish.
How would you describe your own style of music?
I think I'm still developing it. One thing that I really enjoyed about Pacific was a big diversity of music styles represented there. I always felt like we had that freedom to explore. When I first came here, I was writing in a post-minimalist style, but toward the middle of my college career I started to experiment with algorithmic composition. I guess, now I'm going back to more organic sound in a way.
 
Where do you get ideas for your compositions? 
It's a combination of both, class assignments and my own exploration. What's great about Pacific is that our professors are always willing to take a look at whatever you're writing. It doesn't matter if you're assigned to write this. For example, I wrote the piece that won the SF Search composition competition mostly on my own, but near the end, I got input from Dr. Coburn and he helped me with some issues. 
What opportunities did you have to meet with music professionals at Pacific?
Conservatory Dean Peter Witte was able to bring some guests to his dean seminars. Lisa Oman, the Executive Director for San Francisco Contemporary Music Players (SFCMP) at that time, was among them and that's how I found out about SF Search competition. 
All our faculty are professional musicians. For example, Professor Eric Dudley is the artistic director of SFCMP as well, so later on I got to work with them some more. 
And when I told Dr. Andrew Conklin, who's currently heading the composition department, that I was interested in doing algorithmic composition, he was able to bring someone in to talk to me and have a lesson with me. That was really cool of him to do that for me.
Have your compositions been performed outside of Pacific?
Yes, I was the 2018 winner of SF Search. I was able to work with SFCMP on the public performance of my piece "Quicksilver" in San Francisco which was a really great experience.
Dr. Conklin has been really great about sending us opportunities. That's how I found out in my junior year about Fifth House Ensemble's Fresh Inc Festival, an event for student composers and performers. I met some people who were around my age and had similar interests in contemporary music. The pieces we submitted for the festival were also performed there.
And then in 2022, I applied and was admitted to the Valencia International Performing Arts Summer Festival in Spain (VIPA). I attended the festival in July 2022 after my graduation.
How did you feel when your music was performed at the festival?
It was a bit nerve-wracking. Especially that my music was so different in style than everyone else's there. But whenever I have my composition performed, I feel stuck in my seat paying attention to every single detail. It's a weird feeling but also rewarding. It was an honor to have my piece performed at VIPA by such great musicians in front of my talented peers and among other great compositions.
What are your plans going forward?
I'm looking forward to finishing some of my personal composition projects and studying some more about computer music before I get my master's in music composition in the next couple of years.