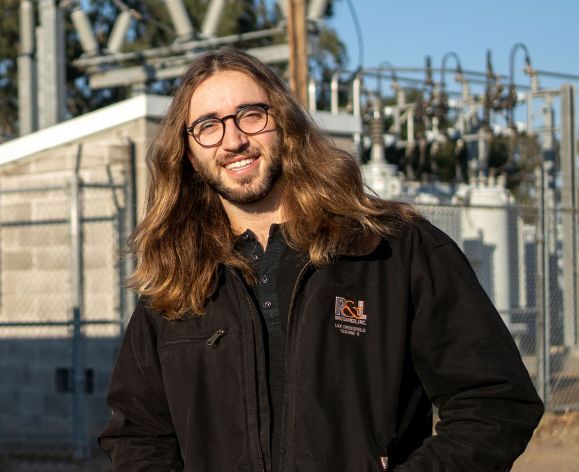 Outstanding music student
Peter Altamura
Major: BM, Music Composition 
Graduation: May 2022 
Hometown: Santa Rosa, CA 
Activities: Phi Mu Alpha Sinfonia, Sigma Chi, Pacific Heavy Ensemble, Punk and Metal Club
How did your interest in music begin?
Peter: I've grown up with music, my mom's a classical guitarist and my dad's a French horn player. When I turned 15, I started getting into metal music. My Bible teacher, who happened to be a fan of the band, took me to my first metal concert. It completely changed my life. The second I walked out that door, I knew I wanted to do music for the rest of my life. I'd been to classical concerts, but I'd never seen music so powerful. There were hundreds of people at the venue, all different ethnicities and ages. It was unbelievable that everybody was just focusing on music, the vibe and healing from whatever they were dealing with. I realized I could do that. That just seemed like the best thing in the world, and that was the best decision of my life.
Why did you decide to pursue music composition specifically?
Peter: I think composition seemed like the right thing to do because I needed to learn how to effectively write music, how to record my ideas for myself and for other people. I'd been playing music for a long time, and I'd performed with concert or jazz band in high school. And that's great, I think that's a great foundation for young musicians. But I never had a theory class. I wanted to be able to hear something in my head and then make a physical version of it.
Have you collaborated with other students on your music?
Peter: The great thing about Pacific's music composition department is that we collaborate with student chamber music ensembles to play our pieces. A lot of composition departments don't have easy access to musicians. It is a big thing because I can work with performers inter-personally, I develop relationships with them. It also opens opportunities for the future.
Does studying music composition help you as a music performer?
Peter: Yes, it does because when I'm playing a piece of music that I haven't written for myself, it's much easier to look at it and understand it. In the past four years of school, I was taught to really look inside the score and pay attention to the notes which overall helps with musicianship a lot.
You co-founded Pacific Heavy Ensemble. Why was it important to you to start this group?
In 2018, when student-run 28/78 New Music Ensemble started at the conservatory, my friend Brandon Lindner '18 and I were really into metal music. 28/78 gave me the idea to start our own ensemble but with a genre of music that we really enjoyed. There were a multitude of challenges at the beginning, and I had to figure out how to connect traditional conservatory culture with the metal culture.
It's not just my goal to play music for myself. It's about getting all the people involved to experience and listen to this new music that they might have never heard before. I wanted people to know about it, but I also wanted to have fun playing music. Because when you play something that you really enjoy and care about, it's a different sort of feeling. And I wanted to overcome the stereotypes about metal music. I think I've done a pretty successful job of it within the conservatory.
Did your experience as a music composition major help you with Pacific Heavy Ensemble?
Peter: This last semester, when choosing music for the concert, we decided that it would be easier to score everything by ear. It sounds counterintuitive, but I was finding out that the artists would take a very long time to send the score, and it became a problem because we couldn't rehearse. So, we put together an orchestration team this year with current students and alumni and Tristen Collinsworth '21 as my chief orchestrator.
Is there one accomplishment you are particularly proud of?
Peter: Probably the first heavy ensemble concert because after that concert I had the feeling that I can do anything I want, I can be whoever I want, and I know that I'm going to be good at it. It was a monumental task putting it on, raising all the money, organizing people, equipment, but it really made me realize that I can do it.
What is next after graduation?
Peter: I'm probably going to go into the music industry because of my experience with the heavy ensemble. I also took Professor Benom Plumb's intro to music industry class which made me very interested in music management and industry. It's something I know I can do to earn a living while still doing music. One day though, I want to have my own band, and I want to record and tour.