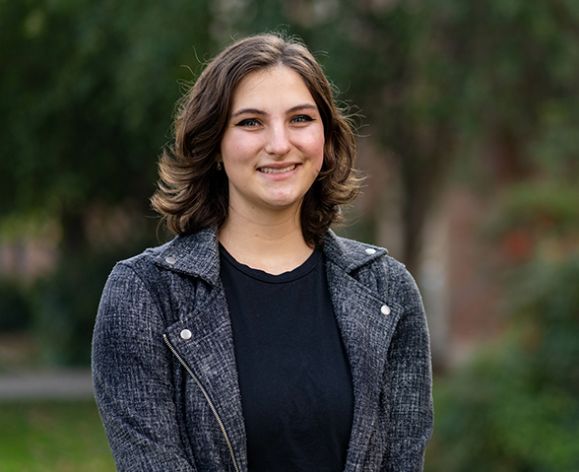 Outstanding music student
Mary Denney
Major: Music Composition
Activities: hornist; student-engineer at the on-campus recording studio; Mu Phi Epsilon Professional Music Fraternity; Pacific Brass Society; and Pacific Pep Band
Hometown: McMinnville, Oregon
Favorite Off-Campus Place: Pacific Trail Coffee in Stockton and Davies Symphony Hall in San Francisco
Mary Denney '24 is a music composition major from McMinnville, Oregon. She believes that collaboration with peer musicians and living composers is crucial for contemporary music composition. Mary's score will be performed at the 2023 Women Composers Festival of Hartford, Connecticut, as one of the winning works submitted for their Emerging Composers Workshop.
Why did you come to study at Pacific? 
I came to an open house day at Pacific and ended up really liking it. Later, the composition and piano faculty at the conservatory reached out to me and invited me to some classes. I started to feel like that was the right fit for me. Plus, I was drawn to the idea of having a small class size and actually getting to know my professors.
Why is a smaller class size important to a music composition major?
Much of what we do is very personal and individual. I think, with big classes, you lose a lot of that individuality. I also feel like I've gotten to know my fellow students a lot better. The conservatory is a great place for us to collaborate, share and bounce ideas off of each other.
What kind of equipment do you use here?
In terms of facilities and technology, the conservatory is really well equipped. A lot of people can write things down by hand, but I can't see myself without the aid of some technology. We have access to software considered to be the industry standard such as Sibelius, Logic Pro X and Pro Tools. In the music composition studio, we have a Buchla synthesizer, a rare instrument that has been really fascinating to get to learn and incorporate into my own music.
With all the things that I can try, sometimes it feels a bit like it's a playground. Whether I'm doing film scoring or working on concert compositions for a chamber ensemble, there's just such a wide variety of things that the technology here has allowed me to do.
What is the Emerging Composer's Workshop? 
If you want to do anything in composition or music in general, you can't wait for opportunities to come to you. I've been looking through online opportunities, things like calls for scores or participation in workshops. That's how I found out about the Women Composers Festival of Hartford, Connecticut, and their workshop designed for young and early career composers who are looking for opportunities to advance themselves and their music by having it played and critiqued by a professional ensemble. 
I will be traveling to Hartford in March 2023 to work with a string ensemble who will be performing my piece. I will be getting some really valuable information to help improve my skills and potentially make my piece better.
What was the selection process like for the workshop?
To apply for the workshop, I had to submit some music that I had previously written. I had a recording available because I'd written a saxophone quartet which was premiered at the conservatory in 2021. In the fall of 2022, I collaborated with Pacific Saxophone Quartet and their professor as well as engineers in the recording studio on campus. Ultimately, I now have this high-quality recording of my music that I can use for these types of things.
What other projects have you been involved with at the conservatory?
I really enjoyed my experience in the recording studio. It influenced me to take the sound recording fundamentals class and now I'm actually working there as one of the student recording engineers. We've been recording some projects for Pac Ave Records, but overall, we can work with anybody studying music, whether it's music education, therapy or performance.
Last semester we had Splinter Reeds here because our oboe professor Kyle Bruckmann plays with them. Our junior composers had a chance to compose for them, and I wrote for just a trio, oboe, clarinet and bass clarinet. We had some time to discuss our pieces with the musicians, make some changes, and then they played through it and recorded the entire session. That was an eye-opening experience because they were very good about giving me important information about technical things. That critique is important, and they were approaching it from a very constructive lens.
Who is one of your biggest music composition inspirations?
Despite some huge strides in the world of music composition, it still is a predominantly male and white group. When I was younger and learning how to play the piano, that music just did not reflect me. I could not see myself as someone who could write it. 
Then I was introduced to the music of Caroline Shaw, arguably one of the most important living composers right now. She has a very powerful piece "Partita for 8 Voices." It was actually performed and recorded by Roomful of Teeth in which we have two of the conservatory faculty members today. Hearing that contemporary piece written by a female composer shifted the perspective for me. I started thinking that I could do that, too.
Why is it important to learn from the composers themselves?
We've had some great opportunities to meet contemporary composers at Pacific. Last year, Viet Cuong visited, and I had the opportunity to have some of my work critiqued by him at a master class. This year Marie Douglas is going to be visiting and then another prominent composer, Kevin Day, is visiting later in the semester. 
We need to take advantage of the fact that there are some incredible composers alive today. I can see how they are connecting with the work I am doing and ask them questions. We have professors who specialize in new music. If they want to talk to the composer about how to play their piece, they just email them or they have Zoom meetings from different parts of the world. It also creates a sense of community.