Outstanding Music Student
Molly Westlake
Major: BM, Music History
Graduation: May 2022 
Hometown: Lodi, CA
Activities: University Symphony Orchestra, Symphonic Wind Ensemble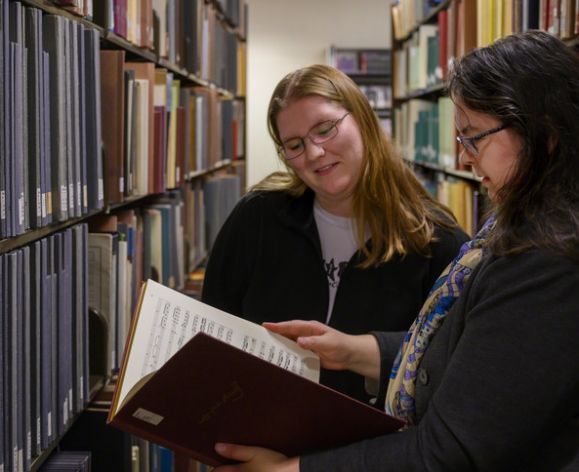 Why did you decide to study music history at Pacific?
Molly: When I visited the campus, I had a lesson with clarinet professor Patricia Shands. I really enjoyed working with her, so that was a big factor in deciding where to go.
I was accepted as a music education major but then I took two semesters of a survey of music history with music history professor Dr. Sarah Waltz. I realized I wanted to spend more time in music history classes. Because the music education major is very busy, it's kind of hard to do a minor or a double major. I decided to just change my whole major.
Could you describe the music history major?
Molly: This major has a larger concentration of upper division music history courses. There's a language requirement which traditionally would be something like French, Italian or German, but it's really flexible at Pacific. If you are interested in music from a different culture, a different country, you have an argument to take that language if the university offers it. It's very doable and your professor will work with you on that.
In the senior year, there's an independent research project where you develop your own interests. Basically, you work on that project on your own with Dr. Waltz's guidance.
And I do play a lot of music. I still take two units of lessons on a clarinet, my primary instrument. I am a member of both the Symphonic Wind Ensemble and University Symphony Orchestra on campus.
How flexible is the music history major?
Molly: Once you get through your first two-and-a-half years, it becomes a lot more personal because you can take music electives that are more catered toward what you're interested in. I was able to take English literature and early American literature courses because I've been interested in literature as well.
There are also a lot of courses at the conservatory centered around new and experimental music or jazz music as well. So, it's really flexible to your individual interests.
What was the topic of your summer research project?
Molly: We chose "Black Opera in the United States" which is a really current topic. A lot of research and improvement is happening right now in the field.
Dr. Waltz recommended applying for Pacific's Summer Undergraduate Research Fellowship. The fellowship helps with funding the project and you work closely with your faculty mentors. I worked a lot with Dr. Waltz and Pacific Opera Theatre director James Haffner.
What did your summer workload look like?
Molly: The required structure is 40 hours a week for eight weeks, which is eight hours a day of research and writing. I also met with the advisers for about two hours a week to discuss what I have read, what I had kind of digested during the week to then process it and put it into a research paper format.
There was a ton of webinar events held on Zoom by various organizations where they had a lot of academics, performers, composers talking in a forum-like structure about what Black opera means to you, what we want to see in the opera industry moving forward. I attended a lot of those, and I really felt I was able to get a strong sense of what's happening right now in the research field.
I also listened to some audio recordings. There are not a lot of professional video recordings of the Black operas, just because they haven't been performed frequently enough to have a professional recording.
Were you able to do any research outside of Pacific?
Molly: Normally, I might have travelled to other universities' archives, but we weren't really able to travel anywhere over the summer because of COVID restrictions. So, I completed most of my research before summer ended, but we extended the fellowship because of the opportunity to go to see the first ever fully Black production at the Metropolitan Opera in New York City. I also ended up applying for Michael J. Hall scholarship from the conservatory to cover some of the cost.
I saw a production of "Fire  Shut Up in My Bones" composed by Terence Blanchard, based on a memoir written by New York Times columnist Charles Blow who grew up in Louisiana and basically wrote his memoir reflecting on his childhood. It is the first opera composed by a Black composer and directed by a Black director with all Black cast.
What would you like to do after you graduate?
Molly: I'm looking into applying to a language exchange program in Germany, possibly for the early fall of next year after I graduate. Once I get home from that, I'm thinking about applying for a graduate school. There are actually a lot of options, the most obvious would be continuing with a master's or a PhD in musicology. There's a lot of really good programs around the country. Also, a lot of people are going to library science or archival work. I like dealing with primary sources like music or scores and I want to continue doing research. You can also teach and do your own research on the side.