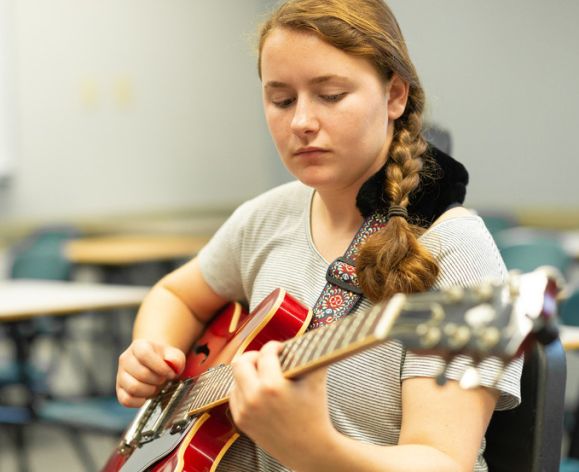 2023 Pacific Summer Jazz Colony
The 2023 Pacific Summer Jazz Colony will take place July 15–20, 2023. Previously known as Brubeck Institute Summer Jazz Colony, the Pacific Summer Jazz Colony is a one-week, intensive educational program in jazz performance for a limited number of exceptionally talented students who come from across the United States and abroad to study with University of the Pacific's Jazz Studies faculty, guest artists and master teachers.
The week consists of combo rehearsals, master classes, classes in jazz theory and advanced jazz improvisation, as well as a variety of seminars on jazz topics. Colonists have extensive opportunities to visit with the artists and clinicians, participate in numerous jam sessions, and perform in public concerts at Pacific's Take 5 Jazz Club and on stage of the historic Faye Spanos Concert Hall.
Pacific Summer Jazz Colony Schedule
Application Process
1. Register online
2. Submit names and contact information (phone number, email) for two references
3. Submit a résumé, including performance experience
4. Upload recordings, not to exceed 30 minutes in length, with the following five selections:
A medium-tempo blues
An up-tempo rhythm that changes tune
A Latin, rock or funk tune
A ballad
Any other tune of your choice (standard, contemporary, original, etc.)
The applicant's performance must be accompanied by a rhythm section or a play-along recording or both. The recording will be judged on sound, intonation, time-feel, jazz vocabulary, artistry and overall musicianship.
Pay the camp fee of $1,700 per student. A limited number of scholarships are available based on financial need. Information will be made available to successful applicants.
Applications are due on Monday, March 20, 2023.
Instrumentation
Instrumentation for the Colony is designed to create a minimum of three instrumental combos that will work together throughout the week. It will include a minimum of the following:
1-3 vocalists
3 pianists
3 bassists
3 drummers
3 saxophonists
3 brass instruments (trumpets and/or trombones)
3 guitarists