A strong foundation
The conservatory offers 11 imaginative undergraduate and graduate degree programs as well as music minor options. Our courses provide a strong foundation in musicianship; supportive one-to-one instruction in instrumental, jazz, piano and voice; and a broad range of performing ensembles. In class and in our communities, we demonstrate how music is central to the world's many economies, cultures and stories.
Relevant experience
Our undergraduates gain experiences typically reserved for graduate students elsewhere. Whether as an operatic or musical theater lead in our productions, a member of a jazz combo or a partner in our student run Pac Ave recording label, our students grow individually as leaders and together as collaborators. If you are interested in a music major, minor or double major, either within the conservatory or in another area of study, we will help you create your path.
Involved faculty
Our faculty includes performers, composers and scholars who are deeply committed to helping students grow as individuals, citizens and musicians. They are actively involved in renowned music organizations, programs and events in the U.S. and abroad. They are involved, collaborative and compassionate toward each other and our students, even as they set clear academic expectations. Our students often choose Pacific precisely to study with a specific mentor.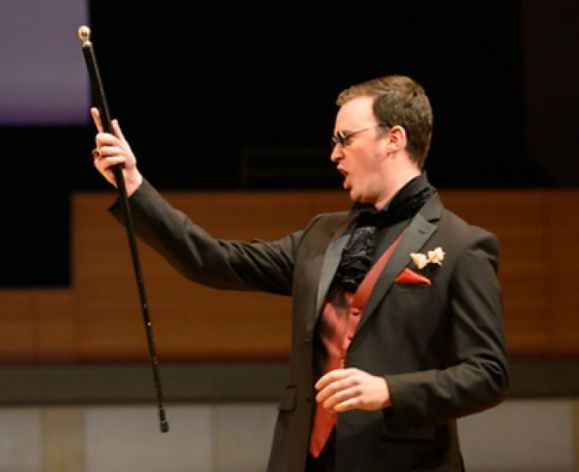 Our alumni soar
Our graduates are making music with the San Francisco Opera, at New York City's Jazz at Lincoln Center and internationally. They work at the intersection of the arts and technology at companies such as Apple, Facebook, Google and Universal Music Group. They help administer programs at the Los Angeles Philharmonic and the Aspen Music Festival and School, and they are leading scholars and music therapists throughout the U.S.
Pictured: Andy Dwan '13 (BM, Music Performance)
2019 Merola Opera Program artist
Photo: Kristen Loken
Performance Opportunities
Pacific Performance Ensembles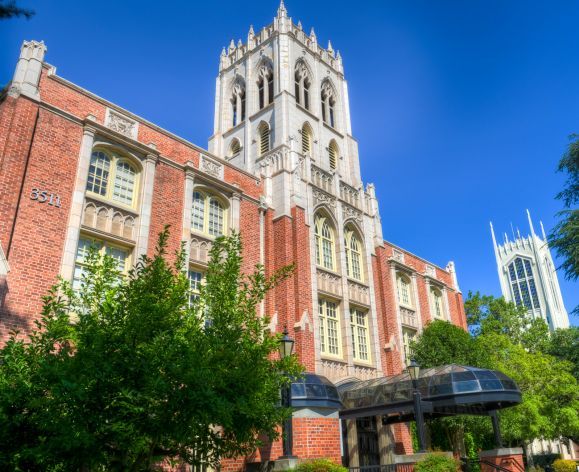 Conservatory of Music Venues
The activities of the Conservatory of Music are centered around six buildings on Stockton campus: Faye Spanos Concert Hall, Recital Hall, Rehearsal Hall, Buck Hall, Burns Tower and Owen Hall. Our on-campus recording & production studios are located inside Owen Hall. Take 5 Jazz Club is an off-campus performance venue on the Miracle Mile in Stockton.
Conservatory Student Profile
2020-21 Academic Year
Number of students in each degree
Undergraduate Students
Bachelor of Music in Music Education — 59
Bachelor of Music in Music Performance — 47
Bachelor of Music in Music Therapy — 49
Bachelor of Science in Music Industry Studies — 38
Bachelor of Music in Jazz Studies — 17
Bachelor of Music in Music Composition — 12
Bachelor of Arts in Music — 11
Bachelor of Music in Music Management — 8
Bachelor of Music in Music History — 1
Graduate Students
Master of Arts in Music Therapy — 28
Master of Music in Music Education — 6
Gender
144 identify as female
130 identify as male
2 non-binary
2 not reported
Ethnicity
84 (30%) identify as White
71 (26%) identify as Hispanic
30 (11%) identify as Asian
18 (7%) identify as Two or More Ethnicities
15 (5%) identify as African American
12 (1%) identify as Pacific Islander
1 (0.5%) identifies as Native American
57 (21%) identify as unknown
Where our students come from
United States
Arizona
California
Colorado
Hawaii
Maryland
Massachusetts
Nevada
New Hampshire
New Jersey
New York
North Carolina
Oregon
Pennsylvania
Texas
Virginia
Washington
Wisconsin
International
China
Hong Kong
Israel
Nepal
Philippines
Taiwan
The Conservatory's Affirmation Statement 
The faculty and staff at the Conservatory of Music at University of the Pacific stand in support of Black Americans as well as Indigenous and people of color across the country. We condemn the historic and continuing forms of racism that pervade our society and institutions. As an academic unit, we acknowledge that we have not acted as if Black lives and Black music have mattered, and that we must do so to serve our students, faculty, staff and community. We commit to: educating ourselves about issues of diversity, equity and inclusion in arts education; changing our curriculum to reflect the experiences of historically marginalized groups; and eliminating forms of systemic oppression within our governance structures, policies and procedures. In doing so, we renew our dedication to "integrity in all our actions and decisions, accountability and transparency" (excerpt, Conservatory of Music Mission Statement).